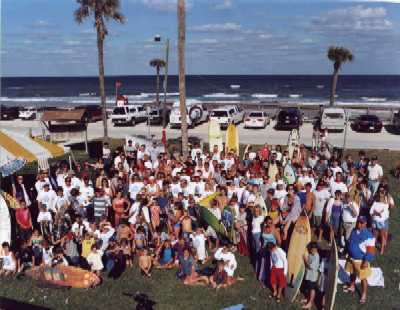 .


BEACH EVENT DETAILS -



Opening Prayer at 10 am



Free Surf lessons start at 10:30 am sharp till noon
You must attend the beach worship service at every event
that you participate in the free surf lessons.



Free Hot Dog lunch at Noon



Beach Worship time starts at 1 pm sharp.



Free board check out at 2 pm



Clean up / Break down at 3:30 pm



We need volunteers to set up at 8am sharp.
Also we need 20 surf instructors, food workers, grillers and surfboard check out hut.



If you have any questions as to whether an event might being cancelled, the hot line phone number to call the morning of event is Jim McCleary at (407) 314-9108 You can also email him by clicking HERE




We meet 10:00am at Mary McLeod Bethune Beach Park (6656 S. Atlantic Ave, New Smyrna Beach) at "The Wall." Parking is FREE

Directions:



Take Route 44 EAST to the Ocean, turn RIGHT (S) onto AIA. Go South for about 6 miles to Kingfish St., (look for CROSSWAVES sign on the right side of road) Turn LEFT (E) at Kingfish, go about 50 yrds to the ocean sea wall, turn right and go about 50 yards to the pavillion area,and that's where we meet. It's called the Bethune sea wall, the surf spot is known as "The Wall".

This event is for the whole community, all churches, youth groups, anyone, and its all free. Many churches from Orlando, the Gulf coast, Deltona, Ormond, Daytona, and New Smyrna attend.

CROSSWAVES has been on national tv & featured on the network show "Sowing Seeds" as well as the Orlando Sentinel & the Daytona New Journal.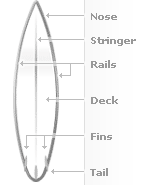 Click on the
image on the
left to see the

Parts of the Surfboard

Crosswaves
Spritual Lesson




Information for 2018 schedule





Our 23rd year in ministry!





WE ARE BACK !!

May 12, 2018
Aug 11, 2018

check back later for more information on speakers and bands playing

God bless, Jimmy McCleary
---

May 2010 Beach Event Baptism videos are HERE

Past Beach Event Photos can be seen HERE
Watch July 2010 Beach Event Latino Video HERE
What do I need and Who is this for?
Always bring some extra drinks.
Food will always be provided.
Bring sun screen and towels
Please wear modest beach attire
Surfboards & FREE surf lessons provided.
Rashguards are recommended for surf lessons and are sold at events.
Boardshorts are also recommended for girls and boys.
This ministry's for EVERYONE - Grandpa, Grandma, Parents, Singles, Teens & Toddlers.

For further information, the Leaders

Check today's wave report at