---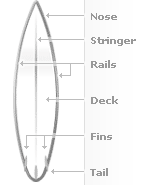 1. BOARD
They come in all shapes, sizes, and designs. They are like us, each a unique design by our Creator made for Him.
(NIV) Rev 4:11
"You are worthy, our Lord and God, to receive glory and honor and power, for you created all things, and by your will they were created and have their being."
(NIV) Psa 139:14
I praise you because I am fearfully and wonderfully made; your works are wonderful, I know that full well.
---
2. NOSE and TAIL
You need to know which direction you're traveling.
(NKJV) Pro 3:5-6
Trust in the LORD with all your heart, and lean not on your own understanding; In all your ways acknowledge Him, and He shall direct your paths.
---
3. STRINGER
Sandwiched between two foam panels, the center of the board. We need Christ to go between us and God.
(NIV) 1Ti 2:5
For there is one God and one mediator between God and men, the man Christ Jesus.
---
4. DECK and BOTTOM (Rails)
Which side is up? In your life you need to know which way is up.
(NIV) Jhn 14:6
Jesus answered, "I am the way and the truth and the life. No one comes to the Father except through me."
---
5. FINS
Give stability and guide the board. Like the Trinity - Father, Son, and Holy Spirit.
(NKJV) 1Jo 5:7
For there are three that bear witness in heaven: the Father, the Word, and the Holy Spirit; and these three are one.
---
6. LEASH
Cord that attaches you to the board. It is a lifeline, like God's people in our life.
(NIV) Ecc 4:9-10,12
Two are better than one, because they have a good return for their work: If one falls down, his friend can help him up. But pity the man who falls and has no one to help him up! ... A cord of three strands is not quickly broken.
---
7. WAX
Gives you traction. Keeps your feet planted, like the Word of God.
(NIV) 2Ti 3:16-17
All Scripture is God breathed and is useful for teaching, rebuking, correcting and training in righteousness, so that the man of God may be thoroughly equipped for every good work.
---
8. DINGS
Boards get damaged and must be repaired or further damage will happen. Like sin in our lives, it must be dealt with.
(NIV) 1Jo 1:9
If we confess our sins, he is faithful and just and will forgive us our sins and purify us from all unrighteousness.
---
9. BOARDS ARE FRAGILE
Our lives are frail and shorter than we think.
(NIV) Jam 4:14
Why, you do not even know what will happen tomorrow. What is your life? You are a mist that appears for a little while and then vanishes.
---
To download a printable Microsoft Word Document of this - just click HERE